Felipe Molina Mendoza (left) and his husband, Francisco Vargas Guadalupe (right) prepare letters of support in an effort to appeal for Mendoza to gain United States citizenship. Mendoza, who has lived in America for most of his life, is an undocumented immigrant from Mexico City, Mexico. After receiving notice, Mendoza was supposed to be deported February 14, but his case has been pushed back to August. Mendoza and Vargas hope to appeal on marital grounds for Mendoza to stay and begin permanent residency on the path to citizenship. Vargas and Mendoza were married February 19, 2017. "He was there for me, taking days off work to go to rallies with me, handing out fliers with my information to people, supporting me through all the stress and mood swings I had because of all that happened. Still when I was in one of my lowest points, instead of running away, he stayed by my side to care for me. We are opposites when it comes to personality, but he has been my comfort and gives me peace." said Mendoza of Vargas.
Through it all, Mendoza still tries to stay positive in the face of his circumstances, although he sometimes finds it difficult. "Sometimes it is hard to maintain a positive attitude when there is so much going against you. One thing I have seen over all these years is that this broken immigration system has taught me to fight. I won't lie; I had depressions and sometimes still do, but I always regain myself and my peace by thinking of my purpose, of my goals, and my family (Kiko included)," said Mendoza.
Because of his homosexuality, Mendoza faced much adversity in Mexico, including persecution, stalking and harassment, causing him to apply for asylum in the United States. Vargas, his now husband whom he met at Riverside High School when he was 14, vouched for his character and signed for him, allowing him back in North Carolina. Mendoza spoke about his struggles as a gay immigrant to the Queer-Straight Alliance at his alma mater of Riverside on April 4, saying, "It's important to just be yourself through everything."
On March 28, Mendoza had to go to the Department of Homeland Security in Charlotte for his Immigration and Customs Enforcement (ICE) check-in. Although Mendoza has done nothing wrong and prepared all documents, there was a small chance that, during the check-in, he could be detained. Vargas accompanied him for emotional support, but had to wait outside in anticipation as he was not allowed inside the building with Mendoza during the check-in. Vargas was nervous during his husband's check-in, saying that last time "only took five minutes. I don't know why it's taking this long, but I'm just waiting for him to text me. There were a lot of people in there."
Mendoza was not detained, but must come back to the Department of Homeland Security in June for another ICE check-in. Vargas and Mendoza are trying to get the documents ready to appeal deportation before his next check-in. "This has affected me on many levels. At this point in my life, I want to be able to have a stable life, have a career, have a house, live happy moments with my husband and family. It's a constant reminder that all of that can be taken away from you because of one person's decision. There is a level of stress and frustration, as I can only do so much to fight to be able to stay here; the rest is to wait for a result that can be either bad or good, again depending on one person's decision," said Mendoza.
Mendoza and Vargas still try to find little joys in life, such as spending time with friends and one another at the movies. "Francisco has been the person that makes me see happiness in all of this. His outgoing personality is contagious and keeps me going to look at the brighter side. Life has brought me to a hard reality, but Kiko is always there to remind me to loosen up a little, enjoy the moment. He has showed me how to smile in dark times, and helped me during all of this. Even after 11-plus years, he still surprises me. He inspires me to be better." said Mendoza of his husband.
Vargas and Mendoza embrace before Vargas heads back to Charlotte for the week. This coming weekend will be the first they have not spent together since their marriage in February. "We are working on having our apartment soon when he is able to land a job here in Durham. We are always talking on the phone or through FaceTime, so I haven't really felt a large negative impact," said Mendoza.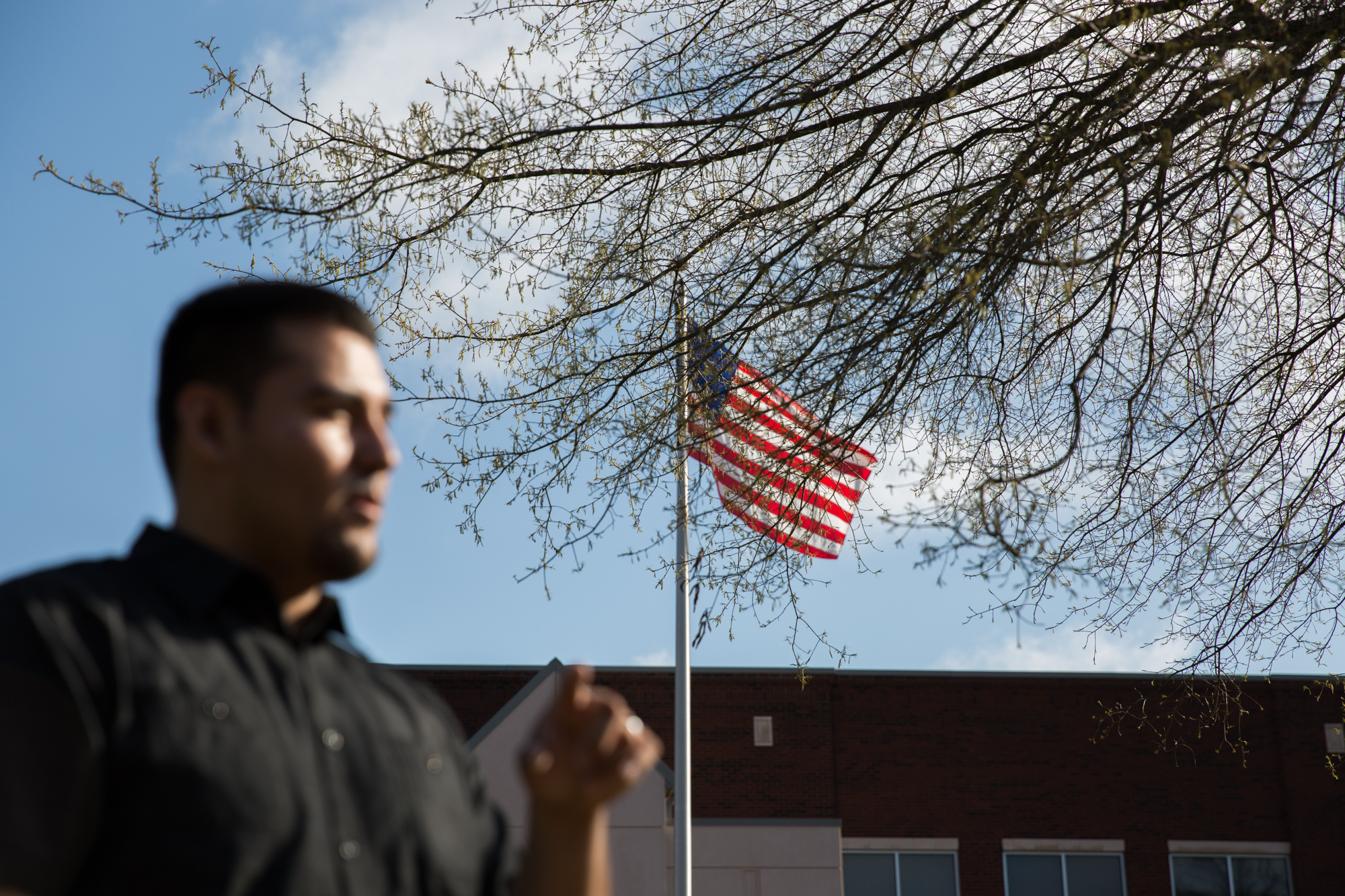 Mendoza will wait until August until his case is determined again, but is working on the process of appealing with Vargas through marital grounds. "My goal is to finally be out of the grasp of this immigration loop that has affected me for so many years--become a citizen of the land I call home. As for my life, I want to be a better person, free myself of all these chains that have been put on my life, be able to complete a nursing degree and enjoy my husband and family without fear. I want to help my community--work in a great hospital taking care of people and helping them get better. I want to help my family, be able to provide for my parents who have fought and worked so long to give my siblings and I a better life. I can see as time passes they are aging more; I want to be stable to care for them as they did for me. That's why I can't give up." said Mendoza.